Presidents' Message
From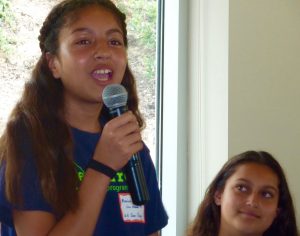 Dayla Sims and Kathy Ford
Hello all 57 Members of the Beach Cities Branch,
Kathy and I are very proud to be a part of AAUW Beach Cities Branch. Each year, we continue to work with some of the best professionals we know. Thank you all for your hard work. We both are in awe when we hear the wonderful strategies and organizational details that you use.
A special shout out to Becky and Vickie for setting the room up with lovely tablecloths and
refreshments before each meeting.  Also a big shout out to Becky for hosting the Holiday event. It was a candlelit event that proved to be one of the coziest and sweetest.
We started the year off with our most-beloved event, the Tech Trek Celebration. From that
joyous meeting, we were able to network with Hawthorne School District's Superintendent and Assistant Superintendent and the two Lawndale SD's assistant principals. Both school districts are providing one after school training event for mentors and mentees (from any year) and any TTAG/TT members who would like to attend. The first one is Dec. 19 from 10 to noon at Hawthorne Middle School at 4366 W. 129th Street. The students will be on winter break, so parking should be easy.
Finally, Kathy and I would like to say a big WELCOME to all of our new members. Vianey
Midgette (Torrance), Jeanne Hamilton (Redondo), Emely Palomo (Hawthorne), Meghan
Stanford (Bellflower), Debra Estroff (Redondo), Marsha Swails (Redondo), Alexabelle Paulino
(Hawthorne), Jennida Chan (Pacific Palisades) and Patricia Alexander (Redondo). Welcome
also to our two returning members: Barbara Gayle (Marina del Rey) and Laurie Walters (Los
Angeles). AAUW is a special organization because our work is important work.
Happy Holidays to all!
Dayla and Kathy
From Vickie McCorkendale's December email blast:
First Friday – Hosted by Ann and Frank Paour
Members and their guests are invited to this purely social event. Bring your spouse, significant other or a potential branch member. All are invited to share some conversation and get the month off to a festive start! Bring an appetizer to share and a beverage of your choice. 
5:30-8:30pm
 at the home of Ann and Frank Paour.  Please RSVP so she can prepare accordingly, either by sending her an email: 
aspaour@gmail.com
 or at the Evite: 
http://evite.me/HB6DXFg4EY
Caring Thoughts to Branch Member
We all want to send our prayers and thoughts to Ginny Evans, who is undergoing some treatments.  Ginny has been an indispensable member of AAUW Beach Cities since 1986, and we wish her all the best.
AAUW Office Depot Discounts
Go to the URL and apply to be a member–just name and email.  No credit card or anything else.
Authors Luncheon – Third Author Announced!
Just this week the fourth author has been added to the line up for the 20th Annual Authors Luncheon and Book Signing. Karin Esterhammer, author of So Happiness to Meet You has accepted our invitation.  Save the date and start reading the books!
Authors: Britt Bennett —The Mothers; Joe Ide — IQ ( latest book); Matt Goldman —Gone to Dust; Karin Esterhammer — So Happiness to Meet You
Look for an invitation to the January branch meeting – very early in 2018!
Program Calendar 2017-18
Saturday, January 13th – 1736 Family Crisis Center Speaker
Since 1972, the 1736 Family Crisis Center has been responding to the growing needs of victims of domestic violence, runaway and homeless youth, homeless families, homeless and at-risk Veterans, unemployed adults and youth, and other low-income community members in need of assistance.  To learn more about their programs, go to their website: 
1736 Family Crisis Center Programs
Saturday, February 10th

 –
Terry Gilman from Mysterious Galaxy Bookstore
Terry has been working with our branch to help choose the authors for our Authors Luncheon for many years. She works with Dianne Funk, our Author Guru to sort through book reviews, press releases and recommendations to help create a short list from which to work.  From there they choose a theme. It's a long, arduous (and also fun) process which results in a wonderful event. We look forward to hearing about this year's process and the announcement of the 2018 authors for our 20th annual Authors luncheon and book signing. To learn more about Terry's bookstore, go to their website. 
Mysterious Galaxy Bookstore
Saturday, March 10th
– Judy Milestone on World Travel and Foreign Affairs
Judy is an AAUW member who lives here in the South Bay.  She had an extensive career in journalism and diplomacy.  We look forward to hearing her take on the state of world issues in March of next year.  If you'd like to know more about Judy, take a look at her 
LinkedIn Bio: Judy Milestone's Career. 
Saturday, May 19th – 20th Annual Authors Luncheon and Book Signing
Saturday, June 9th
– Installation of Branch Board Members, Scholarships Awarded
---
1. States Notch Multiple Equal Pay Victories in 2017
Voters are fed up with the persistent gender pay gap, and many state legislators are listening. In 2015 and 2016 dozens of legislatures proposed and enacted bills and laws addressing pay inequality. In 2017 a whopping 42 states, plus Puerto Rico and Washington, D.C., offered legislative solutions to the gender pay gap. While not all of these bills passed, this growing activity shows that red, blue, and purple states realize that the pay gap is real and that something needs to be done about it.
Image link: https://www.aauw.org/files/2017/09/2017-Equal-Pay-Day-on-the-Hill.jpg
Image caption and ALT text: AAUW staff and interns rally on Capitol Hill in Washington, D.C. on Equal Pay Day 2017.
---
2. Gender & Racial Pay Gaps for 25 Major U.S. Cities
(note: content including shareables and an embeddable interactive map will be published on Monday, December 11. Stay tuned to the AAUW news feed or Facebook feed for the release of this data. We will specifically work with branches in the 25 cities analyzed to add the map and related content to your websites.)
The gender pay gap is a real and consistent problem, which is all too apparent when we examine the data on the earnings of men and women. No matter how you break down the numbers—by state, by age, by education, or by occupation—the gap is substantial. And cities are not immune to this problem, as our new analysis shows.
AAUW has analyzed the pay gap faced by women of different races and ethnicities in 25 of the largest U.S. metropolitan areas. The analysis revealed that there is a substantial gender pay gap in all 25 cities, with even larger gaps for black and Hispanic women.
---
3. AAUW Annual Art Contest 
(note: related 2018 webpages to be updated on Friday, December 15)
Showcase your talent by entering this exciting annual art competition. The six winning entries will be featured in a collection of note cards mailed to AAUW members in the spring.
Find out more about this year's art contest.
Image link: https://www.aauw.org/files/2016/01/Sunny-Days-and-Garden-Maze-by-Carol-Dingman-e1489678516364.jpg
Image caption and ALT text: 2017 contest winner "Sunny Days and Garden Maze" by Carol Dingman.
---
4. You're Going to Be Hearing about These Fearless Campus Leaders
Every year AAUW selects 10 college student leaders committed to gender equity to serve on the national Student Advisory Council (SAC). This year's SAC members are LGBT rights leaders, engineers, student government presidents, first-generation college students, and more.
These students advise AAUW on the needs of college students, take on campus activism projects and community outreach to AAUW student organizations, and gain valuable résumé-building experience. Participants also serve as peer mentors for other aspiring student leaders during AAUW's annual National Conference for College Women Student Leaders (NCCWSL).
Who are these remarkable feminist student leaders? This year's SAC members are LGBT rights leaders, engineers, student government presidents, first-generation college students, and more.
Image links:
https://www.aauw.org/files/2017/11/2017-18SACgroupphoto.jpg
https://www.aauw.org/files/2016/01/Sunny-Days-and-Garden-Maze-by-Carol-Dingman-e1489678516364.jpg
Image caption and ALT text: Members of the 2017-18 AAUW National Student Advisory Council (SAC)
---
5. Upcoming AAUW National Events
Skill-Training Webinars for Members
Skill-training webinars are an easy way to learn strategies and techniques that can help your branch grow and give leaders the confidence they need to take on new challenges.
Join us on January 9 for a discussion on how to raise funds from businesses and individuals in your community for Fundraising from Other Pockets and on February 13, learn how to welcome and engage a diverse membership with the Inclusion and Equity Committee.
Register for one training or more
Image link:
https://www.aauw.org/files/2017/11/2017-18SACgroupphoto.jpg
Image caption and ALT text: Members of the 2017-18 AAUW National Student Advisory Council (SAC)
Membership Collaborative Briefing: Dues Increase
The AAUW Board of Directors voted to raise national dues to $59 beginning July 1, 2018. State presidents, membership vice presidents, and finance officers are invited to join this webinar to learn about the timeline for implementing changes, the resources available to help you communicate the value of belonging to local members, and the effects of the dues increase on membership campaigns. Register today (state leaders only)
Image link:
https://www.aauw.org/files/2017/06/2017Convention_6.jpg
Image caption and ALT text: AAUW members chatting during a workshop at the 2017 Convention
---
Congrats to our AAUW Beach Cities 2017 college scholarship winners, Vanessa Matias (who will be attending the University of California at San Diego in the fall) and Susana Barreras (who is off to the University of California at Irvine!)!
Each of this year's scholarship recipients were TechTrek Science Camp attendees sent by our own Beach Cities branch.
We'd like to thank Terry Hays-Horner for her tireless work for the Tech Trek / TTAG / Scholarships program for our Beach Cities Branch. She has been instrumental in creating a network of support and friendship among the TechTrek alumnae, the nominating teachers and administrators , members of our AAUW branch as well as the  TechTrek program leaders.  We are so happy that she has allowed our branch to watch as the program has grown with the girls and women involved.