Hello South Bay Leaders! I'm attaching the LACIC flyer as an early registration and save-the-date reminder for OUR first meeting of 2017. It will be the only opportunity for local branches to hear the personal story of AAUW-supported Aileen Rizo's case against the Fresno County of Education for pay and gender discrimination.  Becky and I had a chance to hear Aileen's case, and we clearly heard discrimination at its worst.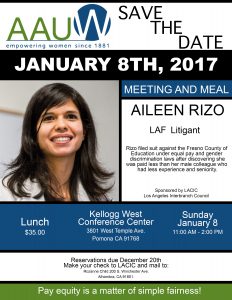 Like our work with girls, here's an opportunity to see where our dues and efforts make a difference is someone's life! The deadline for registration is 12/20/2016…we'll be organizing carpools.
Hope to see you this Sunday for Jane Roberts' presentation: The State of Gender Discrimination in the United States. 
Regards,
Susan Negrete