WHO ARE WE?
We are a group of Tech Trek alum who continue our Tech Trek experience by exploring and expanding our STEM opportunities and setting ourselves up for
success in college and beyond.
WHAT DO WE DO?
TTAG puts on educational events for the community, such as College Prep 101 and Women in
STEM forums. We also tour colleges and STEM workplaces, and hold bonding events such as our Summer Movie Night!
HOW DO I JOIN?
If you were sponsored by the Torrance, Beach Cities, or Palos Verdes branches, we'd love for you to join our TTAG branch! Email techtrekalum@yahoo.com to get added to our email list and learn more about our upcoming events.  Please give us your first and last name, your preferred email address, your cell phone number, your school, your grade in middle or high school (or year in college), the university where you went to Tech Trek camp and what year.  We hope to hear from you!
---
TTAG Events
2019
TTAG Happenings! Fall and Winter 2019
On Saturday, 11/16, 5-8pm, the Tech Trek Alumnae Group held their Movie Night, showing the timely documentary, RBG, about our illustrious Supreme Court Justice, Ruth Bader Ginsburg.  It was decided that this would be a better introduction of RBG's life for the girls (rather than the movie which will be shown in December). The 13 or so girls (5 from Beach Cities: Amy J., Valeria I.,Diana C., Celeste A., Anita M., ) thoroughly enjoyed this intimate portrait "of an unlikely rockstar", as evidenced by their endearing laughter during RBG's recent workout scenes with her trainer, and being moved by her legal battles that changed the world for women. A Q & A session was held afterwards. And pizza, salad and ice-cream were served during intermission. A very successful evening… yet we wish more girls could have attended and benefitted from this event, especially by having been notified sooner.
Thanks to the TTAG Committee (TTAC) of high school girls who organized this! And thank you to the adult advisors: Ximena Mutis (new BC member!), Jean Tordella, Pam Kenoyer and Denise DeVenuto and myself, Terry HH. (See photo attached. Check out the books the girls are holding!)
TTAG Planning Meeting: Committee meets Sunday, Dec. 8th, 8:30-9:45a.m., at Lahari A.'s home, 115 S. Irena Ave., Unit B, RB 90277. Any other TTAG girls and/or AAUW members are invited to attend. RSVP to techtrekalum@yahoo.com. More TT Alums and adults are needed to participate on the Committee and to attend events. Maybe you or your Mentee can join us by making it a New Year's resolution to get more involved!
UPCOMING! On Saturday, 12/14, 6-8:30, Holiday Charity Potluck Party!  Bring potluck side dishes or holiday desserts. Enjoy camaraderie with other TTAG girls. Ice-breaker and mixer games, etc.
Charity programs that girls can contribute to at this event are:Operation Gratitude for our servicemen overseas – making para-cord bracelets and writing thank you notes, and Downtown Women's Center – bringing donations of clothing for homeless women and families.
If time, the Movie (not the documentary), again about Supreme Court Justice, Ruth Bader Ginsberg, will be shown. Rated PG-13, it is titled "On the Basis of Sex" which is misleading because it refers to gender equity and women's equality. Nothing sexual. It focuses on Justice Ginsberg's early years as an attorney and her groundbreaking court battles to bring gender equality.
Location: The Clubhouse of Del Amo Gardens Home Park, at 20562 Palm Way, Torrance. It's off of Emerald St., just west of Hawthorne Bl. Clubhouse is halfway down the driveway. Look for signs with AAUW TTAG at the entry of this gated community.
Please RSVP to techtrekalum@yahoo.com. The Committee, of middle, high school girls and young women, organize these events. Please bring a Tech Trek alumna or a young middle or high school girl who would benefit from this event and JOIN US!🎄🎄🎄
---
Women in STEM Career Forum (Oct. 19, 2019)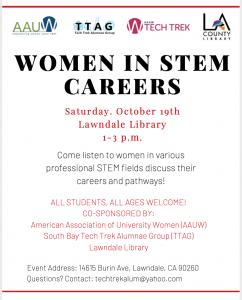 October 19, 2019  1pm to 3pm
Lawndale Library
14675 Burin Ave, Lawndale, CA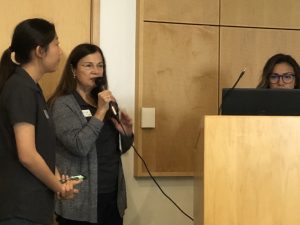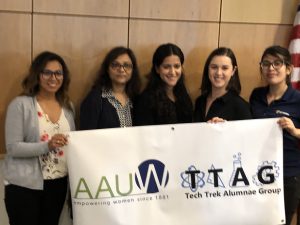 Denise DeVenuto, TTAG Coordinator PV,  starts the program by introducing the TTAG girls, who, in turn, introduce the speakers.
Guest speakers: Women in STEM (L to R): Shirley Muñoz–Component Project Engineer at Aerojet Rocketdyne.  Attended Hawthorne Math and Science Academy, then Cal State Northridge; Dr. Meeta Gupta–Clinical Pharmacist, MS in Chemistry, Doctorate in Pharmacy; Ruqayya Toorawa–Spacecraft Operations Engineer at Millennium Space Systems; went to Tech Trek Camp in 2009 from Dana Middle School, then DaVinci High School and Stanford University; Marisa Thornburg–Clinical Assistant at Ambry Genetics; genetics counseling; studied Molecular Biology and Biotechnology at Cal State Fullerton; Chelsey Jurado–Software Engineer at symantec Corp; B.S. in Computer Science

Standing (L to R): Mia D, Shirley Muñoz, Dr. Meeta Gupta, ruqayya Toorawa, Marisa Thorburg, Chelsey Jurado, and Alexis K.
Kneeling (LtoR): Charlotte M, Amy J, Laharai A, Nicole, and behind Nicole, Elena T.
---
Summer Tours 2019

---
Women in STEM Careers Forum (March 23, 2019)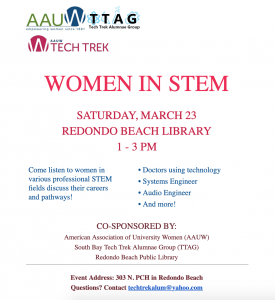 March 23, 2019  1pm to 3pm
Redondo Beach Main Library
303 N. PCH, Redondo Beach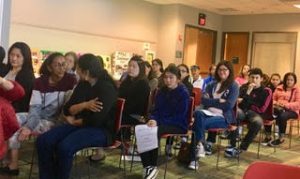 Our great turnout for Women in Stem
March 2019, Redondo Beach Library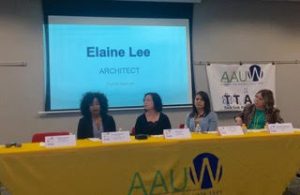 Geataeus Willocks, Aerospace Engineer
Elaine Lee, Architect
Dr. Sonia Rebeles, M.D., F.A.C.O.G.
Holly Hipwell Durand, Executive Sales Representative, Intuitive, Los Angeles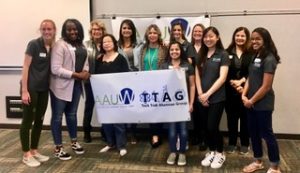 Back Row (L to R): Terry Hays-Horner, Sonia Rebeles, Holly Durand, Mia D, Pam Kenoyer, Denise DeVenuto
Front Row L to R: Charlotte M, Victoria L, Elaine Lee, Khushi K, Alexis K, Lahari A.
"TTAG Committee(TTAC) girls gathering around the speakers and holding the TTAG banner."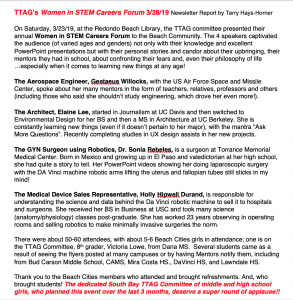 ---
2018
College Prep 101 Presentation 2018
Panel of presenters at College Prep 101 event held at the Redondo Beach Library on Oct. 27, 2018, represented UC Riverside, UCLA, El Camino College and the Student Perspective by our own College TTAG girl, Ana Guillen. Ana went to Tech Trek in 2009.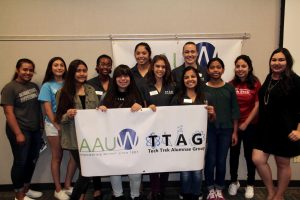 Back row L to R: 1) PV 2) PV 3) Lydia 4) Cel-este 5) Logan 6) Elena 7) Vanessa Aviles (TT2008, BC member, Camp Dorm Mom)    8) Ana Guillen (TT2009, Speaker)
Front Row L to R  1) Karen M,  2) Valeria, 3) Amy, and 4) Khushi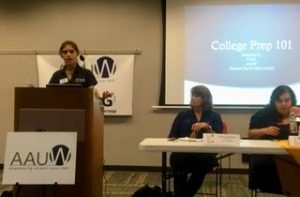 Amy Johnson is the TTAG junior from Hawthorne Math and Science Academy who chaired the event. She went to Tech Trek in 2015.
---

Winter Holiday Party 2018

TTAG girls are munching on pizza, watching Wonder Woman movie, while also making Operation Gratitude rip cord bracelets to send to servicemen.

Amy Jo (TT 2015) and sister, Andrea Rodas (TT 2010), are our only sisters who attended Tech Trek through Beach Cities, and both are in TTAG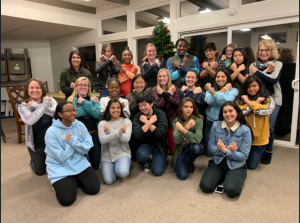 The movie, Wonder Woman, inspired us.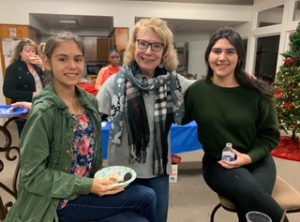 Amy Jo and Andrea Rodas, two sisters who both attended Tech Trek.  Amy is currently in 11th grade at Hawthorne Math and Science Academy; Andrea just finished her BS in Biology at Boston University.
---
2017
Women in Stem 2017; RB Library, 1 to 3pm–Huge Hit!

The Women in STEM Forum held on Sat., 2/25/17, at the Redondo Beach Library was a wonderful success! The four varied career women presenters were each enthusiastic and enlightening, prompting many questions from the audience. Approximately 30 adults and 40 students attended.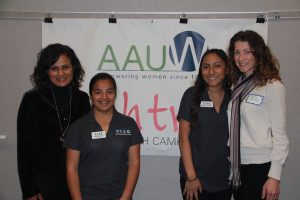 TTAG member and 8th grader, Khushi K., was the chairperson of the event.  TTAG liaisons who were paired with each of the presenters to initiate and maintain contact in obtaining bios and digital presentations were: Khushi K., Jazmine G., Sabrina A. and Logan H.
Presenters were: Dilrukshie Cooray, M.D. of Rheumatology at Torrance Memorial Medical Center; Denise Cheyette, DPT, Physical Therapist and owner of the Wellness Bank in Manhattan Beach who also talked about learning how to run a business that gives back to communities; Lauren Tojo, a Test Equipment Project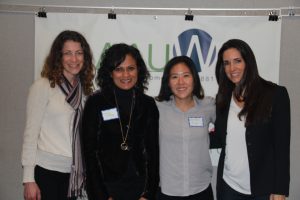 Engineer at Moog Inc. in Torrance; and Ximena Mutis, a UI/UX graphic designer for Symantec Corp., specializing in branding and infographic (icon) design. Her slide show of her personal albums that she created in elementary through high school really spoke to the girls who could see a connection between art and science.
Additional TTAG girls present (who are holding the AAUW sign in the picture) were: Sabrina, Drunara, Logan, Katelyn, Alexis and Khushi.
Women in STEM is an annual event. The next public TTAG event, College Prep 101, will be held in October 7, 2017.  Mark your calendars!
https://beachcities-ca.aauw.net/files/2015/07/Women-in-STEM-Flyer-2-27-17.pdf
---
Space X–Helps in Three Ways
The annual SpaceX Tour is coordinated by Terry Hays-Horner exclusively for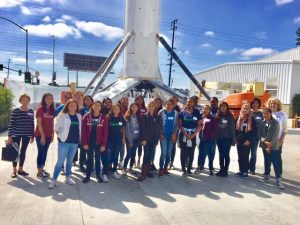 Beach Cities TTAG'17 girls – Date: August 12 most likely–
SpaceX has started a wonderful new workshop for our Tech Trekkers.  It is put on by Space X female employees and is titled "Engineering Workshop for Girls." This program will be for Beach Cities TTAG girls-
SpaceX has for the past two or three years provided funding for two girls to attend the 2017 Tech Trek STEM Summer Camp.
---
Movie "He Named Me Mahala" Summer Event
TTAG Summer Movie event, He Named Me Malala, —- Saturday, August 12, 5:00-8:00pm., at Saatchi & Saatchi building, 3501 Sepulveda Bl., Torrance.  Pizza, salad and make-your-own-sundae are food highlights. Invitations will be e-mailed to all TTAG girls during the summer with the RSVP information. For TTAG girls only.
At the Saatchi & Saatchi Advertising Corp building, meet in the media meeting area- bring pillows and blankets- to watch "He Named Me Malala" on Saturday, August 12, 5:00-8:00pm.  Address is 3501 Sepulveda Bl., Torrance.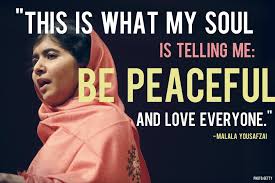 Quotes from Malala
"We realize the importance of our voices only when we are silenced."
"One child, one teacher, one book, one pen can change the world."
"When the whole world is silent, even one voice becomes powerful."
---
Symantec Tour
Symantec Tour- Friday, Nov. 10, 2017.  Come and learn about Cyber Security and see Symantec's facilities. Li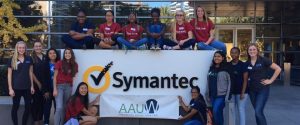 mited to TTAG girls (and advisor as chaperone).
---
---
---
---
2016
Operation Gratitude
Then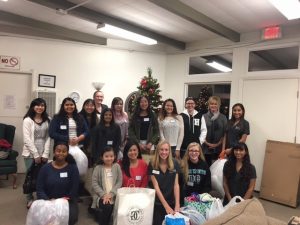 on 12/29/16 ended the year with lots of food, fun and social activism! The 20+ girls from Beach Cities, Torrance and PV Branches wrote Thank You letters to servicemen overseas through Operation Gratitude and made lanyard rip cord bracelets for them. In addition, girls donated 20+ bags of clothing and other goods for the Downtown  Women's Center. Susan Negrete, chair of LACIC and a member of the PV/Torrance Branches, spoke to the girls about LACIC and, also about the purpose and goals of the DWC in L.A. (See photo.) College girls and tech Trek Alums, Stephanie Tran '09 (CSUDH) and Nikki Chan '08 (UCSD),spoke about their college experiences. Beach Cities members, Alice Hill and Terry Horner, attended.TECH TREK ALUMNI GROUP (TTAG) NEWS
---
Tech Trek Alumni Group's Summer Picnic
What a fun, relaxing, and, yet, uplifting day in the park on July 25th! We're so glad that our TTAG young ladies could connect and "bond" together.   We have to thank Sophie Maguy, the TTAG founder and '12 Tech Trek camper , for coming up with this idea and making it happen.  Here are a few photos to show proof of the wonderful day!
We want all former Tech Trekkers to join TTAG to get on Sophie's list to be notified of all future TTAG events, like the next Women in STEM Careers panel, coming up on Saturday, September 26 at the Redondo Beach Library.
Enjoy the rest of your summer…and stay in touch! (Check out more pictures and info on our Beach Cities Facebook page,AAUW B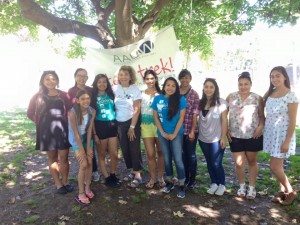 each Cities. It's easy to ask to join the FB page.
---
Terry Hays-Horner, TTAG Advisor; Jean Tordella, Co-AdvisorNote: To become involved in TTAG as an advisor or to just check us out, come to any of our monthly meetings (currently held in Redondo Beach, address upon request) on certain designated Sunday mornings 8:30-10:00 a.m. Next meeting TBD.
Contact Terry Hays-Horner: thhredondo@gmail.com
Join TTAG by contacting techtrekalum@yahoo.com." Thanks!